RESTAURANT AT PIRITA MARINA
Restaurant at Pirita Marina | Between the river and the sea. Restaurant Sardiinid offers gourmet food on the Pirita riverside with a view of the sea in the background and to be a meeting place for the residents and visitors of Pirita. Sardiinid is a restaurant in Tallinn, located in Pirita; its spacious windows and beautiful surroundings with a view of the sea create an unforgettable and romantic atmosphere for any special occasion, appointment, or business meeting. Our "Morning sun" and "Sunset" terraces give you the opportunity to forget about everything but this moment while you discover the historical Pirita harbour and enjoy the flavours and aromas of the Sardiinid cuisine.
The Sardiinid restaurant is located at the Pirita harbour, on the left bank of the mouth of the river Pirita, in the building of the Yacht Club, which is a significant example of late modern architecture. The Yacht Club was built for the 1980 Olympic Sailing event as a part of the Olympic Yachting Centre, which has authentically survived until today, protected by the Estonian National Heritage Board. On both sides of the restaurant, there are terraces where you can enjoy a beautiful view of the sea, the harbour, and the ruins of the Bridgettine Convent church. The mouth of the Pirita river has famously been the landfall and harbour for many boats since ancient times.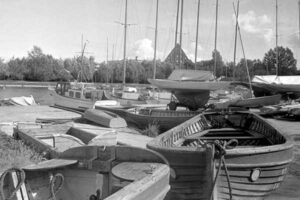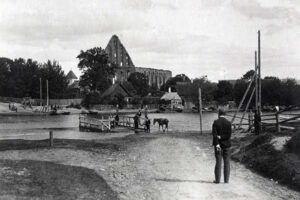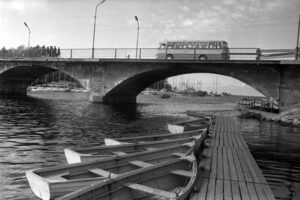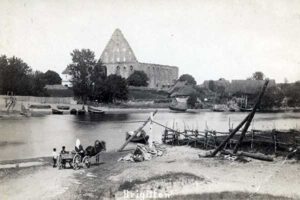 Restaurant Sardiinid is located at the Pirita harbour, at the mouth of the river Pirita, in the building of the Yacht Club (house no. 2). You can visit us on the left riverbank by first walking or driving along Purje Street until you reach the Pirita Marina Hotel & SPA where you can park. Then, walk past the building of the EEVL Valguse Tee Vabakoguduse Church (house no. 7). Or drive past the hotel and turn right, where you will find another parking lot. Or turn from Purje Street onto Masti Street (follow the ESS Kalev Yacht Club sign) and then turn left. Follow the building numbers and arrows. We are located a ten-minute drive away from the city centre. You can also reach us by public transport or by walking from Kadriorg for about a half an hour. Parking in the TOP territory of Pirita is free.
Reserve a table for lunch or dinner, for a romantic date or a business meeting, or to celebrate a memorable anniversary. You can do this via TableOnline.ee, by calling us at +372 660 6960, or by writing to restoran@sardiinid.ee. *We do not take bookings on the terrace.
Our restaurant is perfect for private events, as well as for commercial gatherings. The "Sardiinid" restaurant in Pirita takes group reservations and reservations for organised events. We recommend making an advance booking for groups of more than eight people to ensure the smooth organization of the restaurant.
OYSTERS ON ICE
Fresh oysters on ice with shallots and Mediterranean vinaigrette sauce.
1pcs | 2.95
HUMMUS & OLIVES
Chickpea puree, olives, roasted onions, and crispy ciabatta.
4.95
COD LIVER BRUSCHETTAS
Cod liver with egg, trout caviar, green onion, and herb mayonnaise. Served on crispy ciabatta.
5.95
SPICED BALTIC SPRAT
Spiced Baltic sprat with marinated onion, fresh chives, and boiled egg. Served on black bread.
6.95
BALTIC HERRING FILLETS
Baltic herring fillets in "kama" breading with cucumber-celery tartar sauce.
6.95
GOAT CHEESE SALAD
Delicious goat cheese with ripe beetroot, fresh salad, and crispy ciabatta.
7.95
MINI POKE BOWL
Salted Arctic char seasoned with juniper berry vodka, avocado, quinoa, wakame salad, and green beans.
7.95
PRAWNS | ARCTIC CHAR WITH SALAD
Fresh salad with quinoa, various seeds and prawns | salted Arctic char.
8.95
CELESTIAL CHEESES
Selection of cheeses with raspberry and fig marmalade.
8.95
CAVIAR DUO
Red trout and black capelin caviar on toast, sour cream, and finely chopped shallots.
8.95
ROASTED KING PRAWNS
King prawns with cucumber, carrot and parsnip julienne, and sesame seeds.
9.95
KING PRAWNS & AVOCADO
Roasted king prawns with herb cream flavored avocado, cherry tomatoes, and lime juice.
9.95
CARPACCIO
Thinly sliced meat with pomegranate seeds, and raspberry and balsamic sauce.
9.95
BLUE MUSSELS IN COCONUT SEA
Blue mussels steamed in white wine and coconut milk sauce.
14.95
COCKLES
Braised cockles with white wine and butter sauce.
14.95
BALTIC HERRING UKHA
Clear fish soup with Baltic herring.
5.95
CELERIAC SOUP
Creamy celery root soup with with pieces of Arctic char fillet and lemon oil.
6.95
BOUILLABAISSE
A traditional seafood soup originating from the port city of Marseille.
7.95
SEAFOOD PASTA
Spaghetti with seafood in tomato sauce, and Parmesan cheese.
8.95
PULLED PORK BURGER
Juicy burger of pulled pork with blackcurrant bbq sauce, onion jam, and thyme flavored potato wedges.
8.95
SARDINES
Grilled sardines with green beans, figs, and cucumber, and celery tartar sauce.
9.95
CHICKEN SUPREME
Chicken breast fillet with wing bone, quinoa, and mild Indian mango -and curry sauce.
10.95
SQUID TENTACLE
Flamed squid tentacle with mustard roasted potatoes and tomato coriander salsa.
11.95
FISH BURGER
Juicy Arctic char fillet burger, herb mayo, capelin caviar tartar sauce, served with potato quarters seasoned with thyme.
12.95
GOLDEN REDFISH
Golden redfish fillet with parmesan-pesto bulgur and ginger-lemongrass sauce.
13.95
ARCTIC CHAR
Arctic char fillet with stir-fried julienne vegetables, and sweet and sour lemon-soy sauce.
13.95
DUCK
Japanese-style glazed duck fillet with chickpeas, sweet potato cream, and red wine sauce.
14.95
"FRAGOLA DI CALABRIA"
Italian strawberry ice cream.
1.95 (1 scoop)
"BUBBLY LEMON"
Lemon sorbet with Prosecco or lemonade.
4.95 / 2.95
TIRAMISU
Tiramisu with coffee, almond liqueur, and walnuts.
5.95
"A GOURMAND'S DREAM"
Chocolate fondant with ice cream, and dewberry and lingonberry sauce.
6.95
CELESTIAL CHEESES
Selection of cheeses with raspberry and fig marmalade.
8.95
HANDMADE CHOCOLATE TRUFFLES
1 pcs | 1.50
CREAMY PASTA WITH CHICKEN.
4.95
RAVIOLI WITH CHICKEN (ITALIAN STYLE DUMPLINGS).
4.95
CHICKEN STICK WITH POTATO WEDGES, AND TOMATO AND CUCUMBER SALAD.
4.95
FISH FILLET WITH POTATO WEDGES, AND TOMATO AND CUCUMBER SALAD.
5.50
PANCAKES
*WITH JAM, HONEY, CHOCOLATE OR ICE CREAM.
4.00
ICE CREAM
3.50
*ALLERGENS AND INTOLERANCES. IF YOU ARE UNCERTAIN, PLEASE SPEAK TO A MEMBER OF OUR STAFF.
*SPLIT BILLS ARE ONLY POSSIBLE FOR GROUPS OF 8 PEOPLE OR LESS. THANK YOU FOR YOUR UNDERSTANDING!
The menu of "Sardiinid" was created by Chef de Cuisine Jaak Hiibus, who is also one of the owners of the restaurant. "Sardiinid" represents modern Estonian cuisine, focusing on fresh, seasonal, high quality, and locally sourced ingredients with Mediterranean, Middle Eastern, and Asian influences. The menu is constantly evolving and changing according to the seasons. We have also not forgotten about children, for whom we offer a children-approved menu that is delicious but healthy. The chef experiments and surprises customers with the chef's specials.
San Pellegrino25cl/75cl | 2.20/3.50
Sparkling natural mineral water, ITA
Acqua Panna 25cl/75cl | 2.20/3.50
Natural spring water, ITA
VEEN Velvet 33cl/66cl | 3.00/4.50
The smoothest spring water in the world, Lapland
VEEN Effervescent 33cl/66cl | 3.00/4.50
The "champagne of spring waters", Lapland
Marli Natur Juices 25cl 2.00
Plum, Multifruit, Tomato, Orange, Pineapple, Apple
Granini Juices 25cl 2.20
Cranberry, Pink Grapefruit
Bel Normande Sparkling Juices 75cl 7.95
Red grape, White grape, Apple
Coca Cola/Coca Cola Zero/Sprite/Fanta 25cl 2.00
Franklin & Sons Natural Soft Drinks 27,5cl 3.20
Strawberry & Raspberry, Apple & Rhubarb
House Lemonade 30cl 3.20 | 100cl 8.50
Thomas Henry Mixers 20cl 2.50
Tonic Water, Slim Tonic, Ginger Ale, Ginger Beer,
Bitter Lemon, Mystic Mango
Swiss Mountain Spring Rosemary Tonic Water 2.50
Ice cream cocktail/Smoothies 5.00
Red Bull 25cl 3.00
Coffee/Espresso/Americano 2.20
Cappuccino/Caffe Latte 2.60
Hot Cocoa 2.60
Decaffeinated Coffee 2.60
Chai Latte 2.90
Iced Coffee 3.50
Schlürf Organic Teas cup/teapot 2.20/4.40
INGOLF – black tea with cornflower petals and bergamot.
JANTJE – green tea, sunflower petals, elder blossoms, raspberries.
KLARA – chamomile blossoms, apple pieces, vanilla pieces.
FIETE – lime mint, vervain.
TETJE – green tea, orange peel, lemon peel, vervain leaves, spearmint leaves.
REINERT – rooibos, green tea, lemon peel, nettle leaves, hibiscus petals, mate, sea buckthorn berries, goji berries.
STINE – lemongrass, ginger, brierberries, orange peel, vervain leaves, ginger granules.
HILDE – hibiscus petals, apple pieces, orange peel, calendula petals, cloudberries, raspberries.
FENNA – apple pieces, hibiscus petals, currants, beetroot pieces, strawberry pieces, raspberries, brambles.
Sardiinid Lager (Draught) 30cl/50cl | 3.00/3.50
Lager, EST 5.5%
Erdinger Weissbier Dunkel 33cl 3.90
Dunkelweizen, GER 5.3%
Stella Artois 33cl 3.90
Lager, BEL 5.0%
Hoegaarden 33cl 4.30
Witbier, BEL 4.9%
Leffe Blonde 33cl 4.50
Blond Ale, BEL 6.6%
Leffe Bruin 33cl 4.50
Dark Ale, BEL 6.5%
Liefmans Kriek-Brut 33cl 5.50
Sour Red/Brown (Cherry beer), BEL 6.0%
Chimay Trappist Red Label 33cl 5.50
Trappist, BEL 7.0%
Rodenbach Grand Cru 33cl 5.50
Sour Red/Brown, BEL 6.0%
Pilsner Urquell 50cl 4.30
Pilsener, CZE 4.4%
Weihenstephaner 50cl 4.70
Hefe-Weissbier, GER 5.4%
Youngs London Ale 50cl 5.00
Strong Ale, ENG 6.4%
Shepherd Neame Double Stout 50cl 5.00
Stout, ENG 5.2%
Aecht Schlenkerla Rauchbier Märtzen 50cl 5.50
Smoked, GER 5.1%
Sauna Session 44cl 4.50
Estonian Ale, EST, Tanker Pruulikoda 4.7%
Cloud Computing 44cl 4.50
White IPA, EST, Tanker Pruulikoda 5.5%
No Niin 44cl 5.00
DDH IPA, EST, Tanker Pruulikoda 6.4%
Purtse 33cl 4.30
Pale Ale, EST, Purtse Pruulikoda 6.3%
Metsik Ida 33cl 4.30
IPA, EST, Purtse Pruulikoda 6.7%
Siidisuka 33cl 4.30
Sweet Stout, EST, Purtse Pruulikoda 6.3%
Erdinger Weissbier 0% 33cl 3.00
Weissbier, GER
Beck's 0% 33cl 3.00
Lager, GER
Krombacher Pils 0% 33cl 3.00
Pilsner, GER
Weihenstephaner 0% 50cl 4.00
Hefe-Weissbier, GER
Happy Joe Crispy Pear Cider, FIN 4.7% 27,5cl 3.50
Henney's Cider Dry, ENG 6.0% 50cl 5.50
Henney's Cider Medium, ENG 6.0% 50cl 5.50
Henry Westons Old Rosie, ENG 7.3% 50cl 5.50
Stowford Press 0%, ENG 33cl 4.50
Coquerel Cidre Brut, FRA 4,5% 75cl 9.50
Coquerel Cidre Doux, FRA 2,5% 75cl 9.50
Cinzano Bianco 4.50
Cinzano Extra Dry 4.50
Cinzano Rosso 4.50
Vana Tallinn 3.50
Campari 3.50
Aperol 3.50
Fernet Branca 3.50
Jägermeister 3.50
Pisang Ambon 3.50
Villa Massa Limoncello 3.50
Amaro di Angostura 3.50
Dooley´s Original 3.50
Seaman´s Shot 3.50
Ricard 3.50
Kahlua 3.50
Wenneker Liköörid 3.50
Plymouth Sloe Gin 3.70
Cointreau 3.70
Licor 43 3.70
Pernod Absinthe 4.50
Ancho Reyes Ancho Chile Liqueur 4.50
Olmeca Blanco 3.50
Olmeca Reposado 3.50
Lunazul Blanco 4.00
Lunazul Reposado 4.00
7 Leguas Tequila Blanco 7.00
7 Leguas Tequila Reposado 7.50
7 Leguas Tequila Anejo 8.00
Kalamehejutud 2.90 | 50cl 25.00
Danzka Vodka 3.20
Russian Standard Original 3.50
Absolut Citron 3.50
Kase Viin 3.80
Absolut Elyx 5.00
Beluga Noble Russian 5.00
Beluga Transatlantic Racing 6.00
Cachaca 51 3.50
Martell VS 4.50
Martell VSOP 6.00
Martell Blue Swift VSOP 6.50
Martell XO 14.00
Renault Avec 5.50
Grandial XO The Finest French Brandy 3.50
Calvados Coquerel VSOP 4.00
Calvados Coquerel 4 YO Limited Edition 4.50
Banfi Grappa Del Castello 5.00
Black Bottle Blended Scotch 3.50
Jameson Irish Whiskey 3.50
Jameson Black Barrel 4.50
Four Roses Bourbon 4.00
Four Roses Single Barrel Bourbon 4.50
Evan Williams Black Bourbon 3.50
Elijah Craig Small Batch Bourbon 4.50
Nikka From the Barrel 5.00
Nikka Coffey Grain 7.00
Rittenhouse Rye 4.50
Chivas Regal XV 5.50
Bunnahabhain 12YO Islay Single Malt 6.50
Bruichladdich Port Charlotte Scottish Barley 6.50
Aberlour 16YO Highland Single Malt Scotch 7.50
Kavalan Concertmaster Port Cask Finish 8.00
Sandend London Extra Dry 3.50
Beefeater London Dry 3.50
Beefeater Pink 3.50
Portobello Road Gin 4.00
Nordic Spirits Lab 4.00
Normindia 4.00
Martin Miller's 4.00
Martin Miller's Westbourne Dry 5.00
Arctic Blue 5.50
Nikka Coffey Gin 5.50
Monkey 47 6.00
Angostura Reserva 3.50
Angostura 5YO 4.00
Angostura Dark 7YO 4.50
Angostura 1919 8YO 5.50
Angostura 1824 12YO 6.50
Havana Club Selección de Maestros 5.50
Matusalem Gran Reserva 15YO 5.50
Matusalem Gran Reserva 23 YO 6.50
Mount Gay 1703 9.00
Piper Heidsieck Cuvee Brut, FRA 37,5cl 35.00 | 75cl 60.00
Piper Heidsieck Riviera, FRA 75cl 65.00
Piper Heidsieck Essentiel, FRA 75cl 65.00
Piper Heidsieck Rosé Sauvage, FRA 75cl 65.00
Fourny & Fils Blanc de Blancs Brut Nature 1er Cru, FRA 75cl 55.00
Charles-Heidsieck Brut Reserve, FRA 75cl 70.00
Terra Serena Prosecco Extra Dry, Treviso DOC, ITA 20cl 6.90
Mistinguette Cava Brut, ESP 16cl 4.90 | 75cl 22.00
Terra Serena Gran Cuvée Extra Dry, Veneto, ITA 16cl 4.90 | 75cl 22.00
Cava Lacrima Baccus Rosado Brut Reserva, ESP 75cl 26.00
Ruffino Organic Prosecco Brut, Treviso DOC, ITA 75cl 29.00
Desom Millésimé Crémant de Luxembourg Brut, Remich, LUX 75cl 29.00
Desom Crémant de Luxembourg Brut Rosé, Mosel, LUX 75cl 32.00
Codorniu Zero 0,5%, Castilla, ESP 16cl 4.50 | 75cl 20.00
Vintense Sparkling 0%, BEL 20cl 4.00
Desom Grand Premier Cru Pinot Blanc, Wintrage, LUX 16cl 5.10 | 75cl 23.00
Aveleda Vinho Verde DOC, POR 16cl 4.90 | 75cl 22.00
Masi Modello Pinot Grigio delle Venezie DOC, ITA 16cl 5.10 | 75cl 23.00
Sileni Cellar Selection Sauvignon Blanc, Marlborough, NZL 16cl 5.10 | 75cl 23.00
Domaine de Pellehaut Harmonie de Gascogne Blanc, FRA 75cl 24.00
Kendermanns Classic Riesling, Pfalz, GER 75cl 25.00
Ramón Bilbao Verdejo, Rueda DO, ESP 75cl 25.00
Tenute Orestiadi "Molino A Vento" Grillo BIO Terre Siciliane IGT, ITA 75cl 25.00
Gabriel Meffre Laurus Viognier IGP Pays d'Oc, FRA 75cl 26.00
Collavini Chardonnay Sassi Cavi, Collio DOC, ITA 75cl 26.00
Domenech-Vidal Masia Freye Parellada-Muscat, Penedes DO, ESP 75cl 27.00
Desom Grand Premier Cru Gewürztraminer, Remich, LUX 75cl 28.00
Desom Grand Premier Cru Riesling, Remich, LUX 75cl 28.00
Donnachiara Beneventano Falanghina IGT, Campania, ITA 75cl 28.00
Mazzei Belguardo Vermentino di Toscana IGT, ITA 75cl 28.00
Mar de Frades Albariño, Rías Baixas DO, ESP 75cl 29.00
Pfaffenheim Black Tie Pinot Gris & Riesling, Alsace, FRA 75cl 29.00
Sileni Estates "The Straits" Sauvignon Blanc, Marlborough, NZL 75cl 29.00
Donnachiara Greco di Tufo DOCG, Campania, ITA 75cl 29.00
Enrico Serafino Gavi di Gavi DOCG, Piemonte, ITA 75cl 30.00
Banfi San Angelo Pinot Grigio Toscana IGT, ITA 75cl 31.00
Mantlerhof Grüner Veltliner Lössterrassen Kremstal DAC, AUT 75cl 32.00
M.Chapoutier "Les Meysonniers" Blanc, Crozes-Hermitage, FRA 75cl 35.00
Peter Lehmann Margaret Semillon, Barossa, AUS 75cl 36.00
Louis Latour Chablis, FRA 75cl 36.00
Vintense Chardonnay 0%, BEL 20cl 4.00
Ruffino Rosatello Prima Cuvée, Toscana, ITA 16cl 5.10 | 75cl 23.00
Tenute Orestiadi "Molino a Vento" Rosato Terre Siciliane IGT, ITA 75cl 25.00
Ramón Bilbao Rosado, DOCa Rioja, ESP 75cl 25.00
Les Maitres Vignerons de la Presqu'ile de Saint-Tropez Gourmandise Rosé Méditerranée IGP, FRA 75cl 25.00
Anne de Joyeuse Camas Pinot Noir Rosé, Pays d'OC, FRA 75cl 26.00
Masi Rosa dei Masi, Trevenezie IGT, ITA 75cl 27.00
M.Chapoutier Tavel Beaurevoir, Rhone, FRA 75cl 30.00
Aresti Bellavista Cabernet Sauvignon Reserva, Colchagua Valley, CHL 16cl 5.10 | 75cl 23.00
Ego Bodegas "Marionette" Jumilla DO, ESP 16cl 5.10 | 75cl 23.00
Charamba Reserva Douro DOC, POR 16cl 5.10 | 75cl 23.00
Desom Pinot Noir Cotes de Remich, LUX 16cl 5.50 | 75cl 25.00
Ramón Bilbao Crianza, DOCa Rioja, ESP 37,5cl 15.00
Banfi Brunello di Montalcino DOCG, Toscana, ITA 37,5cl 34.00
Alvi's Drift Pinotage, Worcester, RSA 75cl 25.00
Ruffino Organic Chianti DOCG, Toscana, ITA 75cl 26.00
Gabriel Meffre Laurus Cotes du Rhone Village Rouge, FRA 75cl 27.00
Guerrieri Rizzardi Valpolicella Ripasso Classico Pojega DOC, ITA 75cl 28.00
Dourthe N°1 Bordeaux Rouge, FRA 75cl 29.00
Peter Lehmann Portrait Shiraz, Barossa, AUS 75cl 29.00
Enrico Serafino Barbera D'alba DOC, ITA 75cl 29.00
Masi Campofiorin Appassimento Rosso del Veronese IGT, ITA 75cl 29.00
Cusumano Disueri Nero d'Avola Sicilia DOC, ITA 75cl 29.00
Ramón Bilbao Reserva, DOCa Rioja, ESP 75cl 30.00
Mazzei Belguardo Bronzone Riserva, Morellino di Scansano DOCG, ITA 75cl 31.00
Cruz de Alba Crianza, DOCa Ribera del Duero, ESP 75cl 33.00
Banfi Belnero Toscana IGT, ITA 75cl 35.00
M.Chapoutier "Les Meysonniers" Rouge, Crozes-Hermitage, FRA 75cl 35.00
Dourthe Diane de Belgrave, Haut-Medoc, FRA 75cl 37.00
Banfi Cum Laude Toscana IGT, ITA 75cl 37.00
Calitro Primitivo di Manduria Riserva DOP, Puglia, ITA 75cl 42.00
Enrico Serafino Barolo DOCG, ITA 75cl 46.00
Masi Costasera Amarone della Valpolicella DOCG, ITA 75cl 46.00
Masi Serego Alighieri VAIO Armaron, Amarone della Valpolicella Classico DOCG, ITA 75cl 67.00
Vintense Merlot 0%, BEL 20cl 4.00
Royal Oporto Rose Porto, POR 8cl 5.00
Royal Oporto Aged 10YO Tawny, POR 8cl 6.00
Royal Oporto Aged 20YO Tawny, POR 8cl 7.50
W. & J. Graham's Extra Dry White Port, POR 8cl 5.00
W. & J. Graham's Late Bottled Vintage Port, POR 8cl 6.00